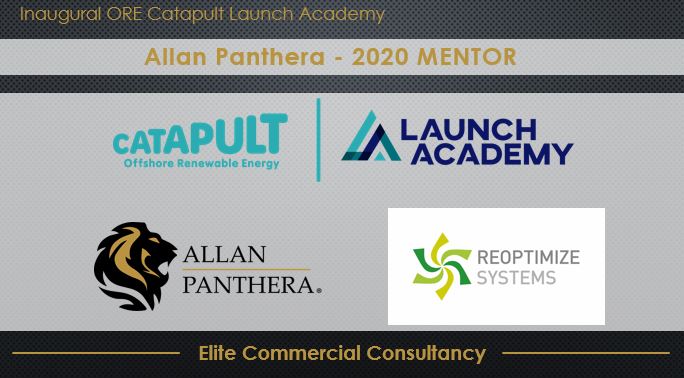 ORE Catapult, the UK's leading technology innovation and research centre for offshore wind, wave and tidal energy, has selected Allan Panthera CEO Jamie Allan as a mentor for their first ever Launch Academy.
The Launch Academy is a globally recognised transformative programme that enhances the UK's offshore wind supply chain, enables greater UK content and supports cost reduction through innovation.
Specifically supporting REOptimize Systems, one of just 10 hand picked companies in the cohort, Jamie will provide pro bono commercial guidance over the course of 2020 to help the business position themselves for success in the offshore wind industry.
The solution which REOptimize Systems has produced provides optimisation tools to improve asset performance. Their key product ACTOS is a revolutionary system for the optimisation of wind, tidal and hydro turbine control parameters.
Jamie said, "I was very impressed with REOptimize's presentation during the welcome session and can't wait to support them with my commercial experience of the on and offshore wind industry. The potential benefits of gaining 6% additional energy yield from their ACTOS solution is transformational, and will make a significant difference to asset owners across the world."
For more information, please visit:
https://ore.catapult.org.uk/research-innovation/strategic-programmes/launch-academy/
https://www.reoptimizesystems.com/
We can also help your business with our multi discipline commercial services. For more information on how we can support you for success, please contact info@allanpanthera.com