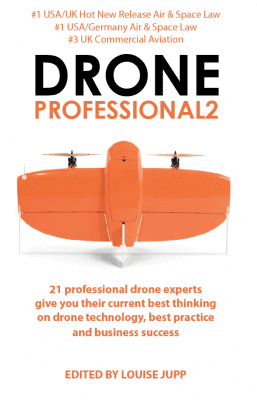 CEO of Allan Panthera, Jamie Allan, has become an international best selling author on Amazon via his contribution to Drone Professional 2.
Achieving No. 1 ranking across a range of categories such as Air and Space Law and Commercial Aviation in the USA and UK, the second edition of the hugely successful book is full of insights, anecdotes and advice to those with a keen interest or involvement in the drone industry, from some of the best-regarded professionals in their fields.
With most notable experience in the global energy industry and from creating award-winning, disruptive drone services which achieved two world-first offshore projects for bluechip clients, Jamie has provided the book with a high level introduction to the use of drone technology across the oil & gas and wind industries for those who are new to this area.
Commenting on the launch of the book, Jamie said, "It is a great privilege to become a published author in two of my favourite fields: energy and drone technology. The diversity and quality of the contributing authors is fantastic and I hope that the book's audience find a lot of interest and useful information when reading it. I already can't wait for the third edition!"
The Kindle book will launch 4th February with the paperback version soon thereafter. Please find the links to pre-order and access the book below:
https://www.amazon.com/s?k=drone+professional+2&rh=n%3A154606011&ref=nb_sb_noss
https://www.amazon.co.uk/s?k=drone+professional+2&i=digital-text&ref=nb_sb_noss_2
If you would like any more information please contact info@allanpanthera.com